Japan and life The Pasta & the Funk's alter or new ego in the third world country with a first world mask

---
6.21.2004
Lack of updates, you say? Well I wanna see you in my place
stuck in a Japanese prison, you!
just kidding, I was around my country being a family friendly
tour guide. I would like to write about the fun stuff but
really, no. Perhaps another time, eh?
anyway, among the trillion temples I had the gashing opportunity
to visit was the Meiji Jingu which still looks the same compared
to the other 4 times I've seen it. darn


and this is how it looks in my dreams about good ole Meiji



by the way mr
is updating again like a madman, and dont
even think of skipping his Engrish section.
also, our local Japanese mad panda has come back from a
2 month hiatus. Now, this fella is full of crap!
11:16 午後

6.09.2004
Finally got my 3rd degree by the cops...
it seems that this ass-kissing bullcrap letter may have saved me...

Dear Sir or Madam:
I would like to take this opportunity to explain the incident that occurred May 19, 2004. I was involved in a traffic accident involving my car and an inconsiderate high school student. The Usuda Police officer at the scene confirmed that I was the victim and that the student was completely at fault. I was also informed by the police officer and, later, by the Usuda Town Board of Education that the driver's license I showed was not valid and was advised not to drive anymore.
I reviewed very thoroughly the explanation on why my international driver's license is not valid. As a law-abiding citizen of Usuda Town, I have followed the B.O.E.'s recommendation and have not only stopped driving completely, but also promptly gave my car away.
I got my license in California in 1996. I have been driving for more than 8 years. Because traffic law in California is very strict, I have received a very rigorous training and testing, and I have never broken any laws nor got into any accident.
Coming from a family with strong ties to the police force (my grandfathers were officers as well as 2 uncles and 3 cousins) I have always had the utmost respect of the law, as well as complete trust in the police force. My family battled the Mafia just as you battle the Yakuza. Because they all live in Usuda and Saku and so visibly infest Nakagomi, the Yakuza must be an extremely difficult issue to resolve, and for that I respect and trust you very much.
The international driver's license was issued to me by American authorities. They assured me many times that it would be valid in Japan even after I told them that I had been living in Japan for one year already. After they checked my passport, they assured me again that my international license was fine. I trusted them. What else could I do?
I have less than 2 months left until I will leave Japan. I am very sorry that I inconvenienced you so much, especially since the fight against the Yakuza is obviously your priority.
I would like to apologize for my ignorance and for the ignorance of American authorities. I have understood that your law is fair and so I am not completely at fault. I have no means anymore to create any inconvenience. Since it is the community that I could have hurt, I would like to give back to the community. I am therefore available to do community service, for example at the hospital, or at Aitopia or even at your station. Nothing makes me happier than helping a community that has given me so much great hospitality for almost 2 years. Such a small bureaucratic oversight should not ruin 2 years of successful international relations.

Sincerely,

my family battled the mafia hahahahahhaaaaa
oh this is for you fellow crapholders

2004年5月19日に起きた事件について説明させていただきたいと思います。
私はこの日、軽率な高校生によって自動車事故に巻き込まれました。事故現場にいた臼田警察署員が、私は被害者で高校生が完全に悪いという事をはっきりさせました。しかし、後に臼田町役場と警察に私の免許証が無効で、運転してはならないと知らされました。
私は国際免許証が無効の原因の理由を徹底的に調べました。そして臼田町の法律に従い運転を止めるだけでなく、即座に車も手放しました。
私は1996年カリフォルニア州で免許を取り、8年以上運転をしてきました。カリフォルニア州の交通に関する法律は非常に厳しく、大変厳しい訓練とテストを受けました。そして法律を犯したことも、事故を犯したこともありません。
私の家族は警察と強いつながりがあり(祖父は2人の伯父と3人の従兄弟と同様に警察官)、常に法律に対して最高の敬意を払っています。警察が暴力団と戦っている様に、私の家族もマフィアと戦っていました。
暴力団の多くが臼田町や佐久市に住み、明らかに中込にはびこっています。暴力団は、解決するのに大変難しい問題なので、戦う警察に敬意を払い信頼しています。
私の国際免許はアメリカ機関によって発行されたもので、アメリカ機関は私が日本に住んで1年経過した時点で確認した時でさえも、何度もその免許証が日本で有効である(期限なし)と保障しました。だから、私自身も確信していました。それ以外に、私に何が出来たでしょうか?
私が日本を立つまで2ヶ月をきりました。暴力団と戦うことが明らかに優先事項である警察に対して、私のことで面倒を掛けている事を申し訳なく思っています。
アメリカ機関と私の無知を謝りたいと思います。同時に、完全に私だけの責任ではありません。日本の法律は公平だと理解しています。私が面倒を掛けることは今後ありません。
もし罰を受けることになるならば、社会奉仕で返したいです。この2年間、社会が私を様々な面で助けてくれたので、社会奉仕が出来るならば幸せです。
この小さな問題で、この2年間の良い国際関係を無駄にするべきではないと考えます

haha, the yakuza!
9:50 午後

6.03.2004


See? Japanese kids on bike are obviously evil, as this
artist's rendition shows!
Well, I am still in the country, the cops haven't
given me any crap yet...seems like everything has been forgotten.
Crap, I can't believe I am talking as if I am the one who was
at fault.


But it's the "japanese way", eh? It's everybody's fault..
(darn bomb, you yanks). Note to self: avoid hitting grannies.
Anyways, nothing to report except that I have been
unsuccessfully muscling my bosses into getting me
a first class ticket to America. You see, it is in
the contract that the town hall must pay for my
ticket to my home country this summer. So they
intelligently told me to find "a ticket".
Ummm, "any ticket?" I said.
"Hai, hai 何でもいい"
"You mean, any ticket, to anywhere??"
"Hai, hai".
"UMMMM...ooookiedokie"
So, instead of touring the world at the town's expense
as many other foreigners near me are doing, I figured,
eh, since I am going straight to America, why not do it
in big boy style?
Why don't they want to pay just $ 7000 for my one way
ticket on luxury Japan Air Lines? I mean, c'mon!!!

it's gonna be a hard-fought-for freaking ticket.

(oh, they finally told me that they would give me $1500 for the
ticket.)
I laughed in their faces. I would spend just that by travelling
to their stupid Narita airport!!!

1.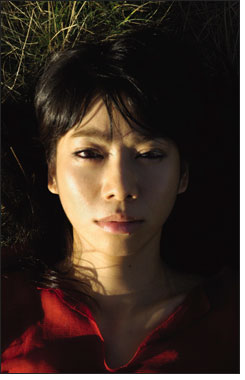 UA - Taiyo te ni tsuki ha kokoro no ryouteni (太陽手に月は心の両手に)
2. Minmi - Fly high
3. Alan Braxe & Fred Falke - Palladium
4. Doop - Daktari (this is a fantastic classic)
5. Beastie Boys - Ch-Check It Out
6. Double - Souljah
7. Spiller - Rio kalopalio
8. Max Romeo & The Upsetters - Push Push
9. Lionel Richie - Don't stop the music [Joey Negro mix]
10. Yello - To the sea

I have recently began to listen to #1 UA who has actually been
around for a while and actually looks much better in still
pictures like that one up there, really eclectic and that's
why she is not mainstream. Anyway, imagine listening to this
song in an open air dancefloor during sunrise. Well it happened
to me when I went to Ageha recently. incredible! You must get
this song...(may I suggest using...Soulseek?)


indeed, this is the same ladeee.
5:37 午後